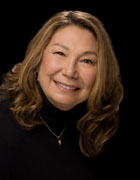 A Port Townsend, Washington resident for over 20 years, Anne Schneider has emerged in her retirement as a mixed media collage artist. She has studied with teachers from Port Townsend, Vermont, Portland, Oregon, and New Mexico. While learning a variety of techniques in collage artistry, Anne has found her own unique voice in art.
Having started this career in her seventh decade of life, she has moved quickly through these classes and techniques to develop her own style. Anne brings a lively palette to her abstract art. Her creations are often a mixture of acrylic paints and collage papers. She employs whimsical qualities and dynamic movement as she tells a story in her art. However, her art always leaves room for the observer's interpretations.
Anne has been juried in as a member of the Port Townsend Gallery located in Port Townsend, Washington, where she shows her art, refreshing her exhibit every month. Anne has been juried into art shows in Portland, Oregon, and the Northwind Gallery In Port Townsend. Anne is on the faculty of the Port Townsend School of the Arts.
Anne's art is in private collections in Maryland, Colorado, Washington, Oregon, California, and Japan.
ART PROCESS

Anne creates many of her collage papers making monoprints using acrylic paints with stencils, masks, lines, stamps and textures.
Her work is a process of layering these and other papers with acrylic paints on substrates of canvas, wood boards or papers. Following the layering, a process of excavating through the layers, and adding transparent layers begins. After many layers of paint and papers and use of colors, a balance and dimensionality emerges in the work.
TAKE CLASSES FROM ANNE!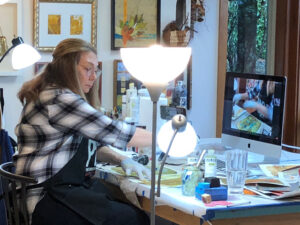 Anne Schneider has been a lifelong teacher of many subjects including art workshops through Northwind Art, located in Port Townsend, Washington. She enjoys sharing techniques and information with students that will help them find their own way to create their art. "Exploring abstract art is fun – you never know where the next idea will come from as you work with the techniques and tools you learn."
During Covid-19 pandemic, all classes are done with zoom technology. If you have a computer and internet access….you can participate in the class! For more information about classes being taught by Anne, click here.